You're probably already familiar with our Bespoken Dashboard, a staple in the voice-first community for testing, not only for Alexa skills but also for Google Actions. As our tools become essential for voice apps developers, we continue to work to improve your testing experience. This is why we've redesigned our Bespoken Dashboard 3.0! Take a look:
Pretty neat, huh? We've kept all the features you know and love, but moved them around a little bit so it's easier to navigate.
Ready, Set, Test
First things first! You'll find all of your notifications and account information at the top right-hand corner: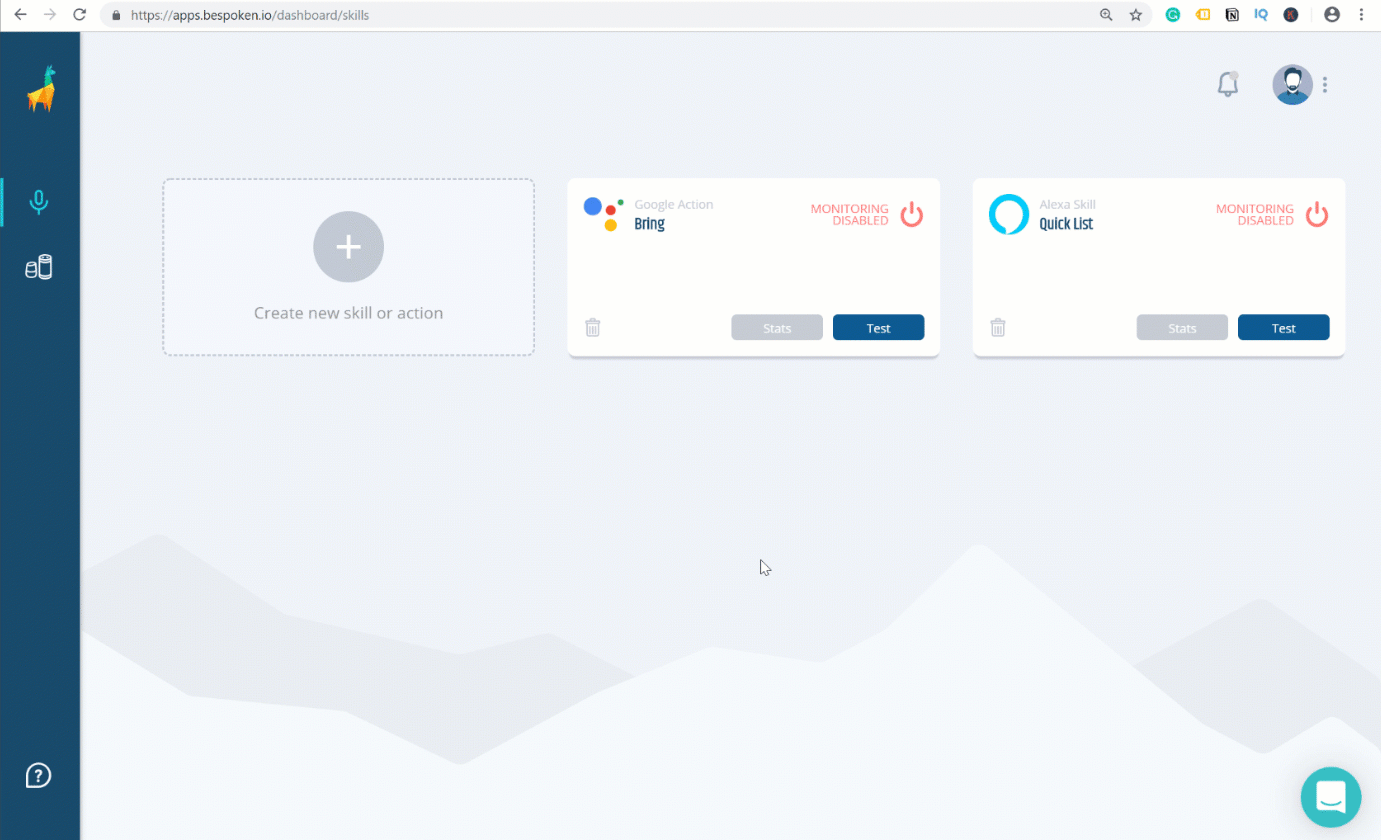 Learn everything about your account, access our documentation, or talk to us on Gitter from here. Don't forget to log out of your account when you're done testing.
Now take a look at our left-hand menu:
From here you can easily access your voice apps and your virtual device manager. Remember that once you click on the Virtual Devices icon you'll be able to access and manage all of your virtual devices. Just like this:
Of course, if you need to read our documentation, download our CLI, or contact our support team, we've added a few links on the bottom left-hand corner of your Bespoken Dashboard to give you easy access to them:
Or you can always click directly on the Intercom widget at the bottom right corner to chat directly with us:
And that covers all the basics. Now on to the fun stuff: automated testing and monitoring for testing superheroes!
Automate Away!
We've modified the layout to make it more user-friendly so you can easily access your test scripts just like before:
t we've given it more space and a friendlier interface so you can be more comfortable when writing your test scripts, running automated tests, and switching to our YAML editor for testing multiple responses. When you're done, enable monitoring to test your scripts at a regular interval and guarantee your voice app is delivering delightful voice experiences, repeatably.
Ready to get started? Sign up for a FREE 30-day trial to test out all of our features or login to activate your testing superpowers.
If you have any questions or feedback, just write us an email and we'll get back to you in no time.
Until next time and happy testing!